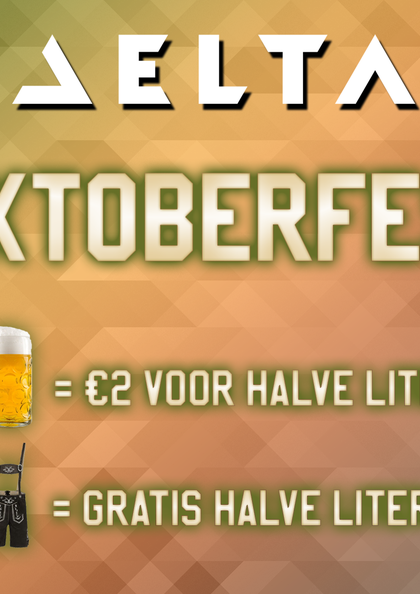 Oktoberfest
TL:DR: 1/2 liter beer only €2!!

Brothers and sisters of beer unite! It may already be finished in Munich but you can still join us for a real Oktoberfest!

Es gibt kein schöner leben than the studentlife and we will prove this by giving 1/2 liter beer for only €2, all night long!! If u come party dressed in "lederhosen" you'll get a free shot of Jägermeister!

We start the night at 21h with a singalong where we will sing dutch classics like Die Lore and Trink, trink, Brüderlein trink. We will also sing less german songs like Ich bin verliefd auf Angela Merkel.

After singing (trying to sing) these songs, our resident, DJ Volkan Güven, will take over and make sure we'll keep partying till the early morning!

Cheers, your Deltateam.